The Order of Engineers of Milan with the unconditional support of Pontarolo Engineering organized the free seminar "Designing with diffuse reinforcement construction systems (SAAD)" scheduled for Monday 2 December 2019 from 14.30 to 18.30 in Milan, at the conference room of the Foundation Order of Engineers of the Province of Milan ground floor, viale Andrea Doria, 9 in Milan
3 Professional Training Credits for all engineers from all over Italy There are no credits for architects, surveyors and experts but participation is still free. A certificate will be issued to all participating professionals upon request.
Click here for the detailed program and registration.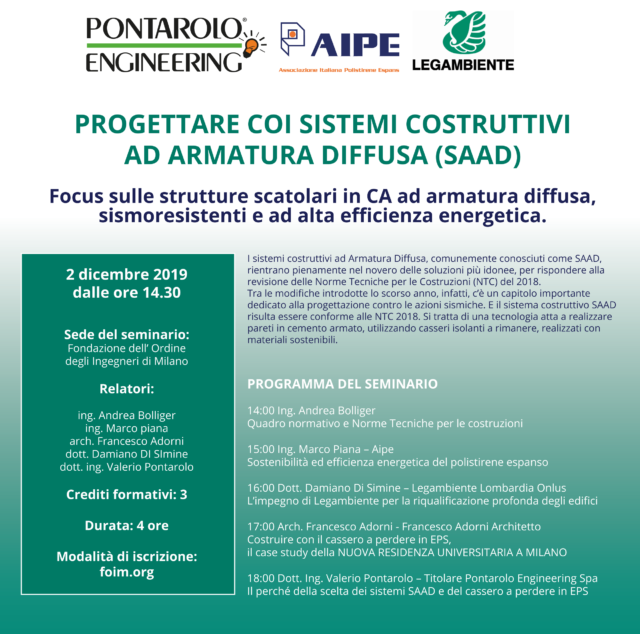 Focus on AC box structures with diffused armor, seismic resistant and high energy efficiency.
Diffused reinforcement construction systems, commonly known as SAAD, fully fall within the category of the most suitable solutions, to respond to the revision of the Technical Construction Standards (NTC) of 2018. Among the changes introduced last year, in fact, there is an important chapter dedicated to the design against seismic actions. And the SAAD construction system is compliant with NTC 2018. It is a technology designed to create reinforced concrete walls, using insulating formwork to remain, made with sustainable materials. During the seminar, a speech by a Legambiente representative is also proposed, illustrating his commitment in the construction field, in support of sustainable construction systems. And a case study will be presented, already carried out in Milan, where SAAD Building Systems have been used: a new university residence.